Excelsior Peak by Church Mountain sits above Excelsior Pass in Mount Baker Wilderness. Meanwhile, the peak overlooks Nooksack River sitting at 4000′ below. Best of all, the ridge trail traverses through to Welcome Pass and offers spectacular views along the way.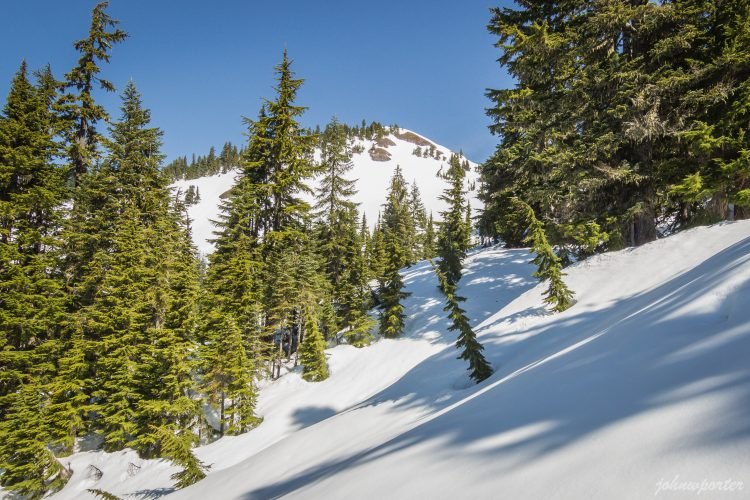 See more trip photos here.
Excelsior Peak at a Glance
Access: Excelsior Pass Trailhead
Round Trip: TBD
Elevation Range: 1840′-5712′
Gear: snowshoes
GPS Track: available
Dog-Friendly: yes
The Preface
It felt great to check off a redo on Cleveland Mountain last weekend. Then today, we came up to the Mount Baker Highway area. Other than Mount Baker, I haven't been up in this area much.
Excelsior Peak was a perfect excuse for revisiting the old stomping grounds. The pups and I have only made one outing on Church Mountain Lookout. But that was five years ago.
See more trip photos here.
High Divide Trail
Snow quality was my main concern, as it was warm when we started past 9 AM from the empty lot. This area is a grizzly country, so I brought bear spray and bear bells. I also kept the dogs on the leash below the tree lines.
The trail was in excellent shape, with enough switchbacks to offset the elevation. Snow showed up at 3800′, and then the path faded beyond that point. I soon began to posthole and put on snowshoes not long afterward.
See more trip photos here.
Onward to Excelsior Peak
We followed old tracks up to the clearing and then went back into the trees on firm snow. From there, we went straight up the hill after trying to follow the summer trail for a while. So grateful for snowshoes!
We went up 1000′ and saw more tracks in various directions, but easier to pave our way. Then we roamed over moderate to steep terrain and left the forest at 5000′. Here the summer trail would veer left up to Excelsior Pass.
See more trip photos here.
Direct Approach
The pups and I stayed straight and went onto Excelsior Peak's south shoulder at 5400′. Then we took the steep slopes up toward the summit. Meanwhile, views improved with every foot gained over the snowy terrain.
Above the trees were the impressive views of Mount Baker and Mount Shuksan. So I couldn't help but keep stopping for photos en route. Soon, we made our way through the final 300′ up to the top.
See more trip photos here.
Excelsior Peak Summit Views
Breathtaking views on the open summit included Canadian peaks only several miles away. It's still early, so we took a side trip to Peak 5930, a mile to the east. So we could look at the eastern peaks a little closer.
We walked alongside snowmobile tracks but sometimes went through trees to bypass cornices. Despite a woodsy top, the summit had a clear view on the east end that was just as impressive.
See more trip photos here.
Outro
On the way down, we retraced our steps to Excelsior Peak's east saddle. Then we dropped into the basin but stayed high to join our tracks on the south shoulder. Despite the heat, the slush didn't seem to be too annoying.
I noticed new boot tracks back in the forest. But they turned around after walking through deep snow for some time.
See more trip photos here.