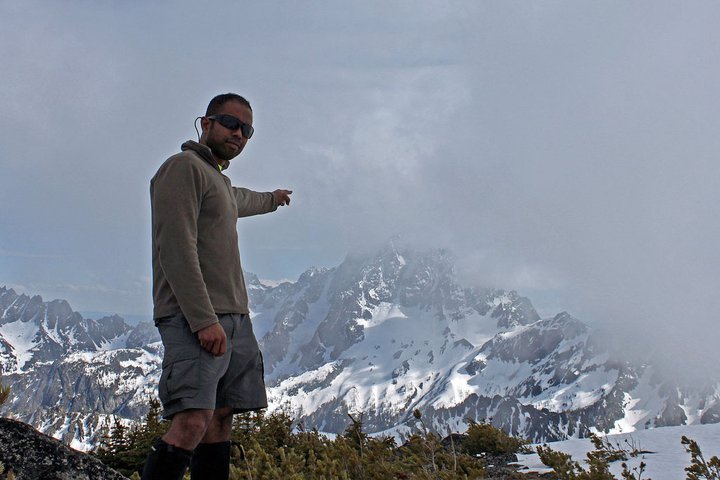 Last time I was in the area I went up Cashmere Mountain on a cloudy day with zero view at the top. This time the weather was great and I looked forward to the great views. Got to the Eightmile Lake trailhead a little after 9 and started hiking shortly after.
Other than the couple hikers who started after me, I didn't see anyone else hiking to and back. The few groups of people I ran into by Eightmile Lake were campers from the day before. It took a while to get to the north end of the lake to begin the climb. I followed ragman and rodman's detailed trip report closely but somehow started the ascend too soon. I fought my way through thick alder bushes at the bottom of the avalanche chute after about an hour.
Beyond the alder swatch began the sea of blowdowns, followed by a boulder field. In fear of post holing through the boulders, I climbed through bare rocks for as long as I could before hopping into the snow just below the meadow at 6,400'. Snow was a little slushy but packed enough to go straight up the gully no problem.
The foot path left by ragman and rodman was so faint that I had to kick my own steps and make my way toward the southwest ridge. By the time I got to the ridge the Stuart Range behind me this entire time had fully emerged from behind Axis Peak. The timing couldn't have been any better. Just as I was making my way to the summit, the clouds rolled in from the north at the same time. Once at the top, there was minimal view to the east and the north, and the west and the south were a hit-or-miss. I stayed an extra half hour at the top hoping for the clouds to subside but that never really happened. It wasn't until I started heading back down, halfway down the gully when the clouds eventually dissipated.
A beautiful day for a solitude hike.
Access: Eightmile Creek Trailhead
Gear: helmet