It's day two of our Thanksgiving week hiking extravaganza. The avalanche danger had heightened overnight. So we resorted to Webb Mountain in the lowland forests by the Hood Canal.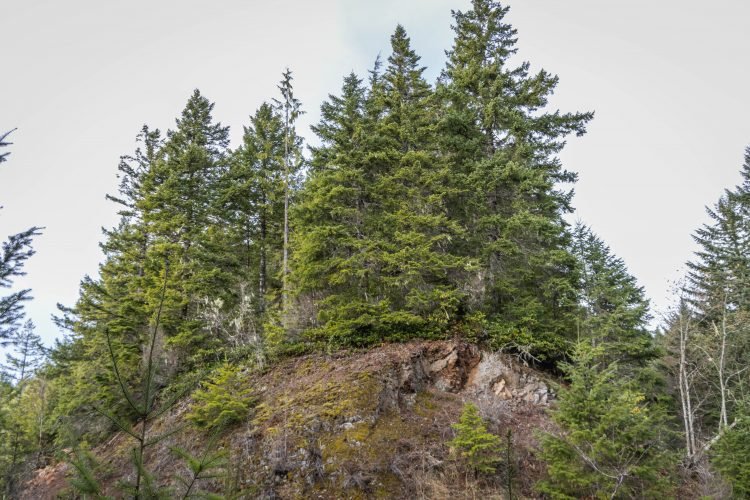 See more trip photos here.
Webb Mountain at a Glance
Access: NF-2510
Round Trip: 2.7 miles
Elevation Range: 1960′-2773′
Gear: none
GPS track: available
Route Info: Nate B, Will Thomas
Dog-Friendly: with guidance
Road 2510
The lower parts of Road 2510 went through the logging country with several quarries. So the roadway condition was still decent. But higher up, the path became more primitive. And during which, we went through three sections of gravel.
The path narrowed past the gravel. Then the brush became a paint scratcher. Soon, the conditions worsened past the 1650′ bump. But I could continue on uneven ground in a compact car. Glad no one was coming out from the other direction!
See more trip photos here.
Walking to the East Ridge
At last, we reached the Road 2403 junction. But it was obvious that we couldn't make the hairpin turn onto the rutted part of Road 2510. So I parked at the fork and walked from there. The walking went by fast, and soon, we were at the next fork.
There we took the upper roadway onto NF-2524. I could sometimes see Hood Canal through the dense forest. But that was all. Later we stopped as the path wrapped around the east ridge. So we dove into the bushes and went west on the ridgeline.
See more trip photos here.
Webb Mountain Summit
We had excellent weather yesterday and expansive views. But today, we couldn't see much even if we tried. Though, I had expected a forested summit on this short mountain. The lookout was at 900′ below the timbered east ridge.
The vegetation had long taken over the summit. So we didn't spend much time there before going back down. But as we were leaving, I noticed a USGS marker amid the grass. So I photographed it as a souvenir.
See more trip photos here.
Outro
Walking the road again wasn't appealing. So we shortcut down the brushy west side. Then we reached an old spur roadway minutes later. From there, we went south a short way over to the minor west ridge.
There we dove right back in the bushes with lots of ferns. Then we scrambled down onto the roadway at 250′ below. Soon, we reached the junction in under half a mile.
See more trip photos here.