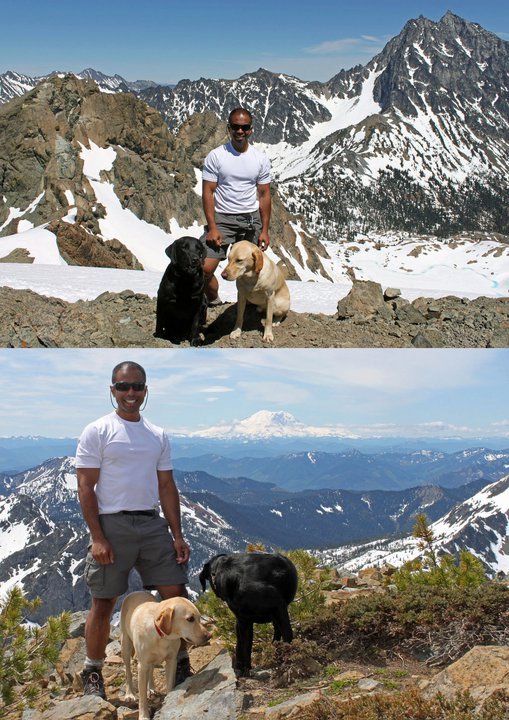 Photos from this trip can be found here.
The original plan was to just climb Fortune Peak. But at the the last minute, I decided to include South Ingalls Peak in the same trip. Most because I wasn't sure if I'd come back to this area again. Thanks to SeanSullivan86's trip report on nwhikers.net, I was able to get a good sense about the snow condition. It's been nearly one month since his trip, so I figured there wouldn't be as much snow left and I wouldn't have to carry my snowshoes with me.
There were 12 cars when I got to the trailhead, another late start for us. The terrain turned out to be pretty tame and the elevation gain wasn't as aggressive as I had thought. It was practically a walk-up to Fortune after effortlessly reaching Ingalls Pass. Speaking of, great sighting of a group of 10-plus mountain goats just before the Pass. They hung out on the boulders above the campsite and looked down at the campers as if they were begging for food. Or were they?
We spent about 20 minutes on Fortune and were ready to head over to Ingalls Peak South. Going around south side of the the rocks in the snow was a little tricky. The snow wasn't entirely packed so it was slippery in some places. Once at the base of the the peak it was just an easy, class 3 climb to the top. The dogs needed some help to get up in a couple of places and that was the extent of the excitement.
There was a couple when we go to the summit and it turned out that they've climbed Mount Stuart a few times and were telling me about their adventures, that was pretty cool. Watching climbers descending the north peak was also very exciting. I never get tired of looking at Mount Stuart, every angle provides a whole new perspective and a brand new experience.
After descending the peak, I sort of regretted to have left my backpack on Fortune, just so I wouldn't have to go back down the mountain the long way. Although we were able to go straight down the snow chute after leaving Fortune and that made our descend into the basin much quicker. The parking lot was completely full when we got back and it had gotten quite warm. Another gorgeous day in Teanaway!