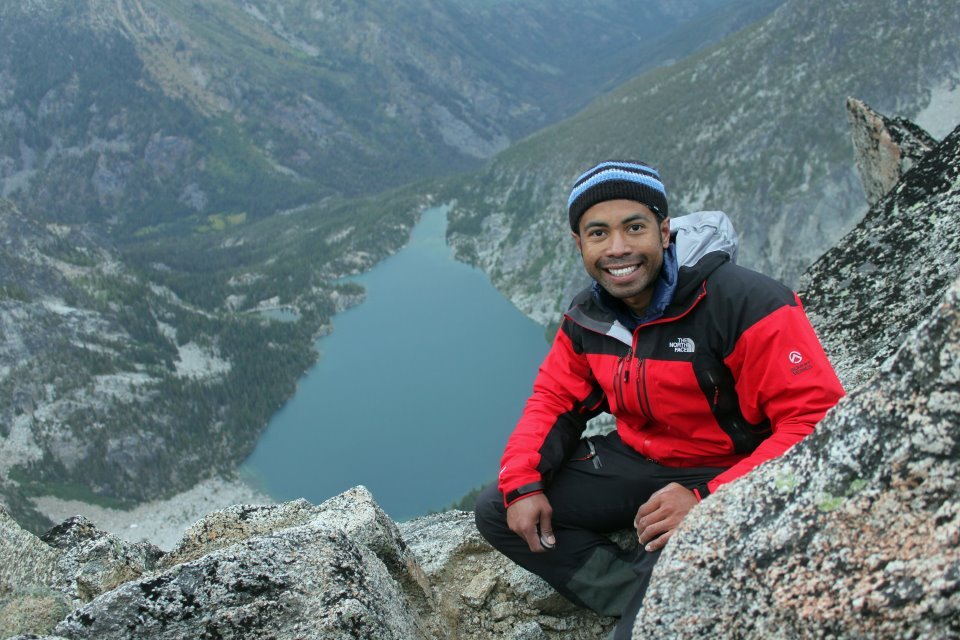 Photos from this trip can be found here.
Day 1 – Dragontail Oeak
After reading a couple of trip reports and luckily secured a permit through nwhikers.net, I set off on one more and perhaps the last backpacking trip of the season to The Enchantments.
Weather was less than desirable, and luckily it was a dry approach. A couple of hours to get to Colchuck Lake, and another half hour looking for a good camp. As soon as I set up the tent and changed clothes, I set out toward Colchuck Glacier.
It took a while to get from camp to to Colchuck Col, mostly due to semi-frozen to frozen snow. Either I misread the reports or snow turned icy overnight, probably the former. Of course I regretted not packing crampons. When I got to the col I had just an hour and a half before sunset time.
Armed with just enough daylight to climb one peak, I settled on Dragontail Peak for the views into the upper basin. With a GPS map in hand, I started heading up west slopes. Scramble was a bit technical yet straightforward, and before long I was scrambling up south slopes toward the summit.
I look around on the summit and my attention was quickly directed to a huge span of lakes amid great, flat terrain to the east. It took a minute to realize that what I had been staring at was upper basin of The Enchantments. Wow, just wow, and more woooooow! No words could thoroughly express my surprise, and I could hardly wait until next day to see it up and close. Oh, and Colchuck Lake looked awesome from up here.
Darkness descended just as I got back down to the col. Up until now I hadn't liked hiking after dark, let alone getting down the icy glacier doing just that. Holding my ice ax with a firm grip, I slowly and carefully slid down sideways (mostly on my right) while staying close to west end of the glacier. No trouble seeing in the dark with the headlamp, but the sound rockfalls from Dragontail Peak made me a bit nervous.
It took a good hour before getting to bottom of the glacier, and another hour scrambling through the brush back to camp. The cut on my right calf I felt while on the glacier turned out to be ice burn, something I hadn't experienced before. According to the doc it's essentially the opposite of sunburn.
What an evening full of unanticipated excitement.
Day 2 – Little Annapurna
Little Annapurna and the upper basin had to wait as I lay inside the tent for the rain to subside. As soon as the rain stopped I was out on the trail and headed for Aasgard Pass. The Pass was steep but not as horrible as some of the reports made it out to be. It made a great workout.
Since I hadn't planned on going to the lower basin, I figured there would be just enough time to explore the upper basin and walk up to Little Annapurna. I was in awe with the lakes and the Middle-Earthy terrain before getting to the base of Little Annapurna.
It was only cloudy when I started scrambling, but the rain decided to pour when I got to the summit of Annapurna, not to mention that there were no views. I stayed on top long enough to take a self-portrait before heading back down. The weather got a little better when I got back to the bottom, even the sun decided to come out. I continued to head east nearly to the edge of the upper basin before turning around to go back toward Aasgard Pass. There were no sighting of mountain goats the entire time and I only ran into one party earlier. It was eerily quiet on the way back to the west end of the basin.
I got back to camp just in time to pack up and head out of The Enchantments. The two-mile hike out seemed like an eternity, especially when the daylight was getting shorter. Later I found out the Green Trails map had misprinted the mileage and it was in fact five miles from the Stuart Lake trailhead to Colchuck Lake.
This was a memorable trip, not to mention the fact I lost my GPS on my way out. Til we meet again Enchantments!
Access: Stuart Lake Trailhead
Gear: helmet, ice axe, microspikes