Cannon Mountain usually only sees a specific group of climbers. In this case, the Bulger List chasers, to be exact. I brought the pups along for the ride. So guilty as changed.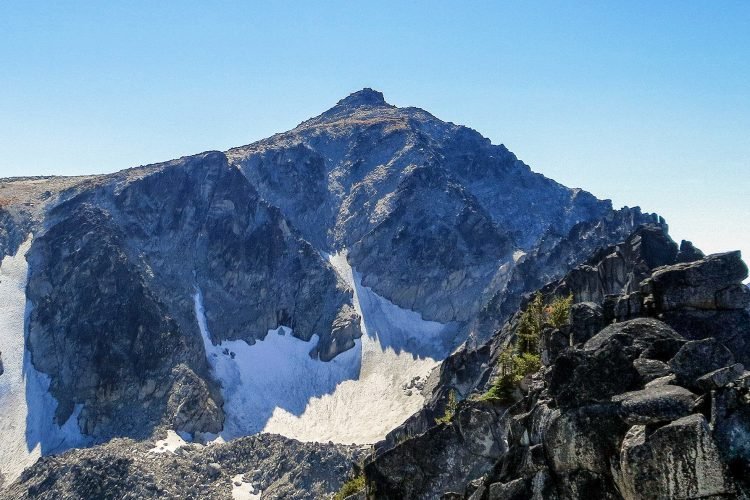 See more trip photos here.
Cannon Mountain at a Glance
Access: Lake Stuart Trailhead
Round Trip: 8.5 miles
Elevation Range: 3400′-8638′
Gear: helmet
GPS Track: available
Dog-Friendly: no pets
The Starting Point
The climber's trail started at the gated road. It also shared the same parking lot with Lake Stuart Trailhead. But the place was surprisingly quiet for a Sunday.
The pups and I hiked the brushy roadway for two miles. From there, we went up the steep northwestern slopes. The goal was to reach Cannon Mountain's northeast ridge by moving southeast.
See more trip photos here.
Down Tree Terrain
Soon, we started the tedious work of going under, above, and around countless windfalls. I had read about the down tree-infested terrain. But only seeing was believing!
At one point, I slipped on a log and plunged forward. Then I broke my camera by landing on my chest. So glad I had decided to bring my phone as a backup.
See more trip photos here.
Cannon Mountain Northeast Ridge
Later we reached the ridge at 8000′. Then it was mostly a scramble from that point. Soon, we moved south along the crest above the west of Coney Lake.
We had a clear view of Cannon Mountain's summit. But as the ridgeline veered south, the more cliffs there were. So we dropped down the east side and continued south.
See more trip photos here.
The Final Stretch
Later we made our way up through the northeast snow gully. But we bypassed the ice by going around to the right. Then we went back onto the rocks to be above the ramp.
Afterward, we scrambled a bit of exposed class 3 rocks. But glad the pups were able to move through that part more quickly than I expected. Then we followed the Ridgeline up to the top.
See more trip photos here.
Cannon Mountain's Summit and Out
The mountain had shielded us from the gusts this entire time. So the minute we stood on top, the north windy came right at us. Then we quickly took cover behind the summit boulders.
Other than photographing peaks inside The Enchantments, we stayed behind the rocks. The views were excellent in all directions. But what an exhausting trip, especially for the pups!
See more trip photos here.