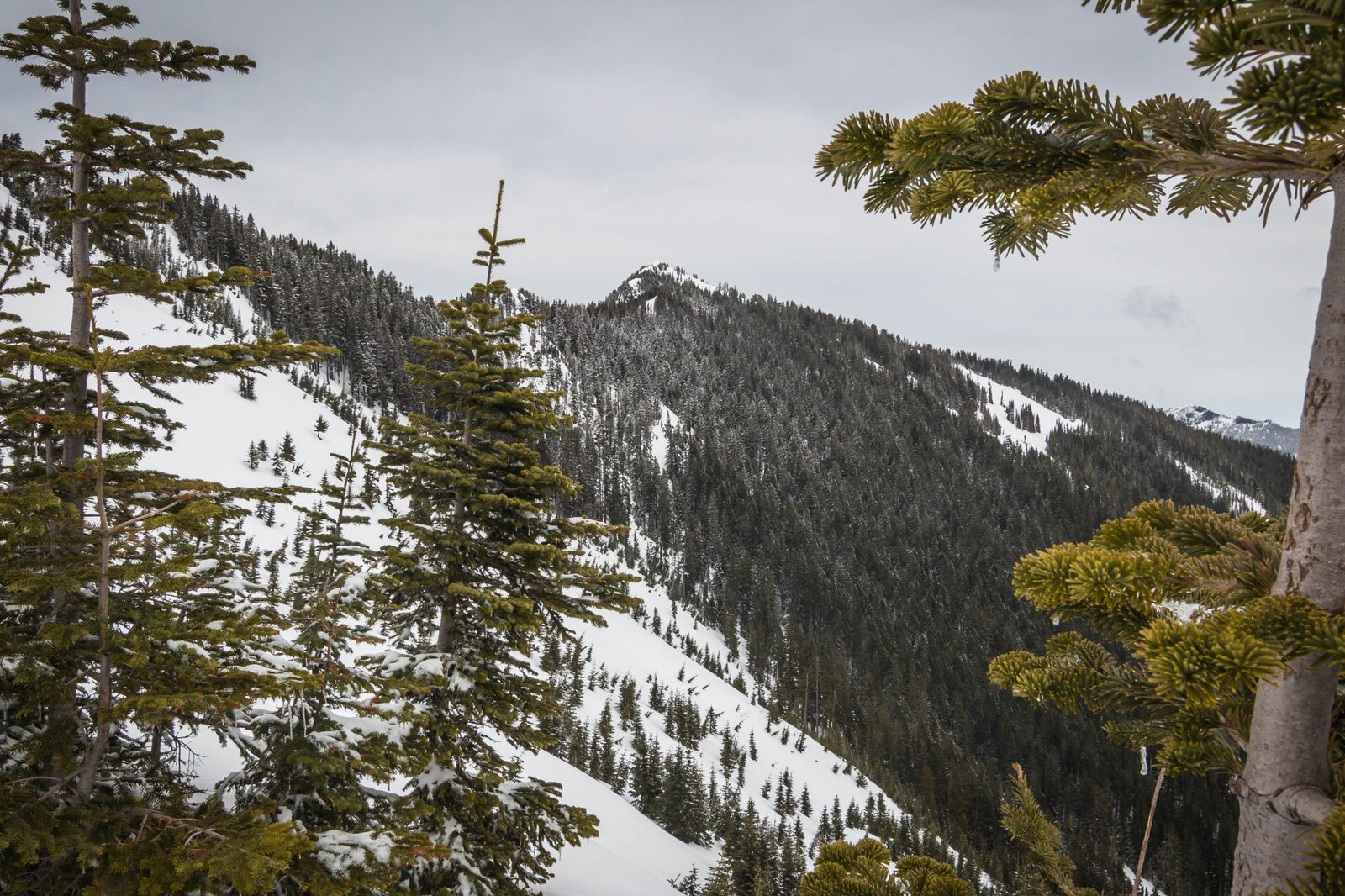 Photos from this trip can be found here.
Revolution Peak and us had unfinished business…
When pups and I attempted this peak five and a half years ago, I brought my bike in hope to cut down on approach time via the old trail. Despite the effort, late morning start with short daylight had us turn around at the outcrop on the connecting ridge past Thompson Point.
The newly built connector trail helped shave off a good chunk of distance while providing a more direct approach. Many thanks to the trail crew and volunteers for making great improvements to the trail and bringing the old logging road back to life. My favorite part was seeing the beautiful log benches carved straight out of tree trunks and strategically placed in places with mountain views across the valley.
Just beyond Granite Creek crossing at approximately 2,000′, a huge section of down trees had been sawed up to further make way for hikers. Put on snowshoes at 2,600′ on good snow to Granite Lakes Trail junction. Mindless road walk and trail breaking past junction until we reached road's end.
It became increasingly windy at the 4,800′ shoulder below Thompson Point, where we got our first glimpse of our destination. Quickly scoped out the ridge from Thompson Point, and I wasn't entirety sure how we'd get around the outcrop when it's covered in snow. Steep east face with cliff bands was out of the question, and the steep, icy west slopes weren't conducive to traversing sideways.
We retraced our steps on the ridge by a couple hundred feet, then descended into Gifford Lakes Basin to where it felt safe and comfortable enough to traverse below the crux. Then we ascended diagonally and regained the ridge just north of the outcrop. From there we more or less followed the ridge line to the top.
Just like on Jolly Mountain, snow had formed a mild arête leading up to the summit. We took refuge behind trees by the summit and listened to the wind blast for another 20 minutes before finally calming down. Although the sun was shining, wind chill had brought temperature down to near freezing.
Great vantage point of Pratt River and Snoqualmie River Valleys plus countless surrounding peaks reaching as far north as Glacier Peak Wilderness. The long-running ridge from Mailbox Peak to Mount Defiance west of Granite Creek drainage dominated southwest skyline. Mount Rainier looming in the distant south as always.
On the way back I made sure to check out the cozy cabin west of Thompson Point, since we didn't get to do that on the first trip. Now…who wouldn't want to own this cute little cabin for the expansive, all-around views?! I wonder if Amazon delivers to this address…
Gear: snowshoes, ice ax